Kanye West has bought a house across the road from his ex-wife Kim Kardashian.
As reported by TMZ, the house cost $4.5 million, is 3,650 square feet and has five bedrooms.
Bizarre rumours are now flooding social media that Kanye was spotted hiding in the bushes outside Kim's home, but is it true? Read on to find out…
Fake Kanye rumour debunked
After Kanye bought his new home near Kim, reports began flooding Twitter that Kanye was seen hiding in the bushes spying on Kim's house.
A photo is even going viral online claiming to show Kanye dressed up as a green bush camouflaging himself.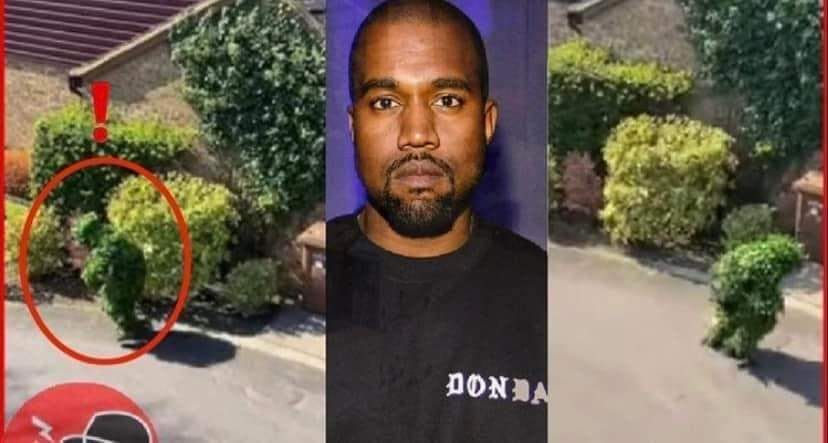 One person wrote on Twitter: "Bro Kanye hiding in the bushes dressed up as a bush is sooo awkwardly hilarious lol."
"I wanna have someone as obsessed as Kanye is hiding in Kim's bushes," said another.
A third person added: "Was Kanye West really hiding in the bushes today???"
However, it's all fake news and Kanye was never actually spotted hiding in the bushes.
How the rumours began
The fake story began when an Instagram account called @rapstreet.tv posted the photo of a man dressed as a bush on the street and claimed that it was Kanye.
If you delve into the profile, you'll see that it only has 2,000 followers and has posted lots of ridiculous stories about various celebrities. So, the Kanye story is clearly fake.
"Breaking: DRAMA unfolds outside Kim Kardashian's house after Kanye West spotted hiding in bushes," they wrote alongside the strange image.
In the caption, they added: "It is being remote that earlier this morning the cops were called to Kim Kardashian's home after Kanye West was found hiding in the bushes outside the house."
"Both parties have remained silent on social media but some are alleging that Pete Davidson was inside the home at the time of the incident. Ya'll think Kanye went too far or nah?" they continued.
The cops were never called to Kim's house and Kanye was never hiding in the bushes, but the post certainly had a lot of people fooled.
Hoax reemerges amid Kanye drama
The photos of Kanye hiding in the bushes have gone viral yet again in February 2022 following the rapper's latest social media rant.
This week, Ye shared a number of screenshots of private text conversations between himself and Kim and on Instagram.
He also sent the 41-year-old a truck of roses on Valentine's Day despite her filing for divorce in February 2021.
Following the harassing posts, fake rumours began flooding the internet that Kanye was hiding in the bushes and the same photos took over Twitter once again.
However, Kanye wasn't stalking Kim outside her home and the photos are fake. Ye later apologised for exposing the texts on Instagram, writing:
"I know sharing screenshots was jarring and came off as harassing Kim. I take accountability. I'm still learning in real time. I don't have all the answers. To be good leader is to be a good listener."